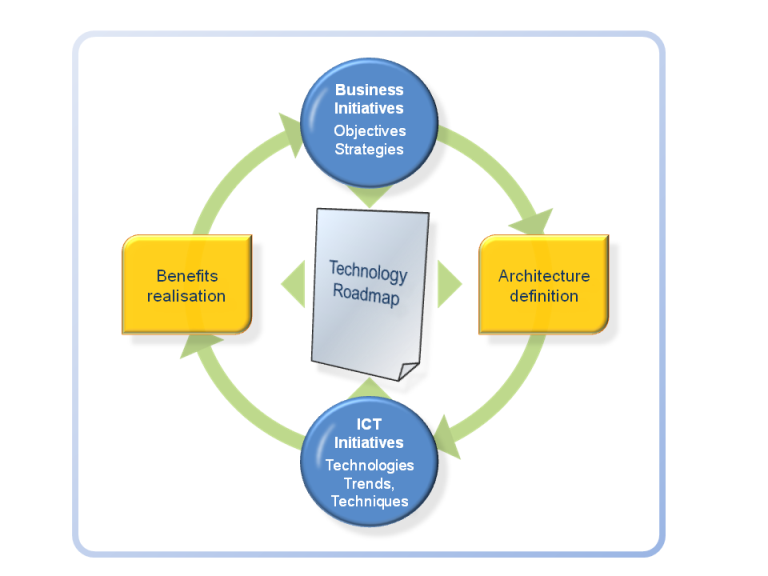 Innovation can be driven by business dynamics, and by IT initiatives & new or emerging technologies.
A Technology Plan should set out how the potential benefits of any technology are to be assessed through an evaluation process, and the treatment for new, alternative and upgraded technologies, in line with enterprise architecting practice.
The Technology Plan should:
Set out operational and business strategies and objectives and map them to ICT technologies and techniques that can potentially contribute to the realisation of those strategies and objectives.
Identify technologies and technology trends that have potential benefits.
Set out the processes for assessing those benefits in operational and business terms.
Set out the architectural framework for developing technical solutions so that they address specified organisational strategies and objectives.
Can too much formality strangle innovation? Probably. Enterprise Architecture's contribution should include the validation of ideas and concepts in line with real world practicalities, and working out the optimal means to develop and deploy them.
Recognition of aspects that underpin and encourage innovation is a good foundation:
Innovation Principles
Innovation addresses specified strategies and objectives.
Innovation is ongoing.
Innovation is collaborative.
Innovation is cultural.
Innovations consider the End User .
Innovations should produce tangible benefits.
Innovation is the realisation of ideas and concepts.
Innovation applies to all aspects of a Service.
Innovation applies to all stages of a process.
Innovation should not be strangled by over-management.
Customisation drives Innovation*.
Characteristics of an innovative culture:
Creativity, collaboration, and communication is structural.
Knowledge Management is actively applied.
Systematic innovation - "What gets measured gets done".
Experimentation is encouraged.
Skillsets. Personnel have experience,competence, creativity in business and technology. The Mircosoft "T" : breadth in many fields, and depth in one field. Balance of skills - innovators to BAU.
It innovates and imitates.
Customisation driving innovation.
Tolerance of failure.
There is nothing permanent except change. Human structures should always be open to changes.
*Customisation drives innovation, but it also adds to cost. Enterprise Architecture addresses customisation by using replicable and repeatable components (as its building blocks) that can be assembled in customised ways.